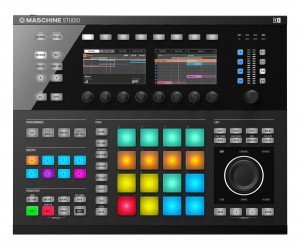 I'm sure you've seen the info by now, but if not, just a quick update for ya.  So besides the new hardware there is also the new software which will work with the previous controllers. Some of the most noted new features in my opinion are multi-core, unlimited groups, a mixer, the built in drum synth, midi import,  and unlimited plugins.
Of course there's more, but…you'll have to wait and see 🙂
Here's a little info from the press release
Berlin, October 1, 2013 – Native Instruments today announced MASCHINE STUDIO and MASCHINE 2.0 – the new flagship groove production studio and next generation of MASCHINE software. Considerably bigger than the original hardware, MASCHINE STUDIO provides expanded tactile control and new hi-resolution color displays, setting a new precedent in intuitive, handson,computer-based beat production. As with the acclaimed MASCHINE and MASCHINE MIKRO, MASCHINE STUDIO is an integrated solution combining the latest software technology with a hardware-based workflow. MASCHINE 2.0 features a host of enhancements – including a new mixer page and dynamic drum synth plug-ins – designed to deliver more power and speed to all three MASCHINE production studios. MASCHINE STUDIO will be available at the NI Online Shop starting November 1, 2013. MASCHINE 2.0 is included with MASCHINE STUDIO and all MASCHINE and MASCHINE MIKRO products shipping on or after November 1, 2013.
And you know we got it locked down for you, more info coming soon!
For now, checkout the official video.