Why Maschine Tutorials?
This website was created for those wanting to learn Maschine, or wanting a place to improve their current skills and share their own tips and advice.  It is also intended as a general place to explore and discuss various aspects of Maschine and music production in general, in a controlled and friendly environment. One free from trolling, internet stalking, e-bullying, and all other nonsense we usually encounter in public forums.  We feel the small price of admission weeds out the troublemakers and those who are only interested in causing conflict, this allows those who really want to discuss their craft seriously, to have a place to do so.
The internet allows things to operate 24 hours a day, and sometimes questions can be asked while others are sleeping, but for the person asking it's a question they could really use help with it right then because they are actually in a studio session on the other side of the world! This website allows 24/7 access to the most comprehensive information and training available for Native Instruments Maschine.
Having a place to login and find answers to your questions no matter when it is or where you are in the world was a much needed resource.
So who are the people creating these Maschine Tutorials?
saintjoe: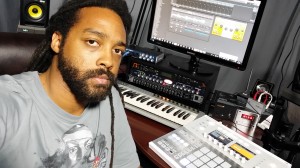 Many of you know me as saintjoe from SoundsAndGear.com, you may have seen me in various online forums, or maybe you're one of the folks that come across my many Maschine videos on YouTube.
No matter where you may or may not know me from, please rest assured that music production technology and helping people understand it is my passion.
I love to help people, but there's only so much time in a day, so I wanted to start a place where I can collect and continue to add all my knowledge on Maschine for easy access 24 hours a day. I am always exploring new ways to use Maschine, new skills and tips, and I like sharing those. I also get a lot of the same questions by various Maschine users, so having a place to point them to for the answers was also a reason to start this site.
Those that know me know I've been a huge fan of Maschine ever since I started using it in the summer of 2009. I'm dedicated to not only helping you learn all you can about this tool, but also dedicated to learning everything there is to know about it, so I can continue to provide new tips, tricks, information, and tutorials.
knock squared:
If you've searched for anything on Maschine in the past couple of years, you've seen this guy.
He was on Maschine making it sing way before I even had one, so I knew when I was in the development stages of this site I wanted to get him to come in and share some of that knock-wisdom.
I think our styles compliment each other well and allow us to connect with a variety of users.
There was no question about it, me not asking him to do SOMETHING would be like Karate Kid opening up a dojo and not asking Mr. Miyagi to teach a class, give a talk, wax on wax off, or something!
Anyway, here's some info on knock…
Knock Squared is a Producer in Music AND Radio.Known for videos on Youtube that show his production process, many don't know that he has been in the "biz" for many years (under different names).
Also a Vet in radio with over 20 years in radio broadcasting working alongside Radio Greats Donnie Simpson, Big Tigger,Frankski and the loudest Man on Earth DJ KHALED !!! Knock is a 100 percent Maschine Supporter.
So there you have it! What are you waiting for?
That's pretty much it, two guys that are known for their love of Maschine, putting their knowledge into an exclusive, members only community.  The goal is to help teach anyone who wants to learn Machine how to use it, as well as help their music production in general.  We are also here to help push the development of Maschine to the next level, belonging to a concentrated membership community of Maschine users is a powerful tool when it comes to making suggestions and requests in the development of Maschine.
There's plenty other "perks" inside including a private forum and social network, access to bonus drum kits, samples, and other resources, as well as member's only discounts.  So yes, this is a Maschine-centric site, but anyone looking for a great music production community to belong to is welcome!
See ya on the inside!