Hey what's good MT Fam?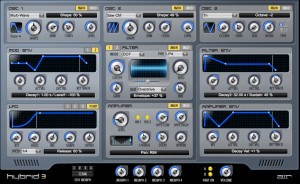 I get quite a few questions from people new to Maschine or new to using external plugins in Maschine, in regards to how to load the presets.
Maschine offers such a hands on workflow with it's own sounds and Komplete, that many expect it to translate over to any plugin…unfortunately as we've all found out, it doesn't.
Well I've been working on a new service for MaschinePacks.com to help those using third party plugins that want a more integrated experience with browsing and loading them in Maschine.
I've been going through many popular third party plugins and saving each of their factory presets as Maschine instruments, complete with tagging for quick searching.
Of course I wanted to hook the fam up with some goodies so I'm giving you the entire factory library from AIR Music's Hybrid 3 VST saved as presets in Maschine format.
You need to own a copy of Hybrid 3 in order to use these presets of course, there are no samples or sounds, just about 2000+ presets saved, tagged and ready to load in Maschine.
*access instantly when you join today! 
This is something I've been working on for a while and as you can imagine it takes a while to get everything tagged and saved, but I have a lot more presets coming so stay tuned.